PID 8800 - PID Detector & Static VOC Analyser
Excellent value for money
Several thousand 8800 analysers have been sold around the world
With a dynamic scale of 10 ppb at 1%, the 8800 PID Analyser is part of the larger 8800 family of analysers which includes unheated FID analysers, heated FID analysers and FID CH4 / NMTHC analysers. It is the instrument of choice when compactness, value for money and low-maintenance are required.
Compounds detected
The 8800 PID analyser is capable of analysing dozens of volatile organic compounds (VOCs) such as Benzene, Toluene, Trichlorethylene, Perchlorethylene, Propylene, Isopropylene, Phosphine, Hexane, Heptane, Hydrogen Sulfide, Ammonia, etc.
Scale of analysis
Wide measurement scale 10 ppb to 5,000 ppm (standard) and % (optionally available)
Characteristics of the PID 8800 analyser
Ultra-rapid Response 5 sec for T90
Wide measurement scale 10 ppb to 5,000 ppm (standard) and% (optional)
Excellent stability (zero & span)
Easy maintenance (no PID gas support)
Automatic zero drift compensation
Digital 20 character, 2 li. LED Display
Additional electrochemical detectors for CO, NH3, H2S, CH4, SO2, NO, Cl2, H2 ...
Compact analyser (19 " rack or wall mount)
Very easy to use
Continuous measurement 24h / 24h
Excellent sensitivity: from 10 ppb
4-20 mA outputs, 5 alarm relays, RS 232
Very simple direct reading function
Alphanumeric backlit display
Linearity up to 5,000 ppm
Zero drift <0.1 ppm per 24h
Span drift <3% per 24h
Large scale of dynamic measurement (104)
Low running costs (purchase & maintenance)
Automatic drift control by gas injection
Standard (manual span adjustment)
Electronic zero and zero atmosphere
Integrated pump sampling system
Power Consumption: 200 W Max.
Operating conditions: 5-40 ° C & 0-95% H.R
An established industry standard
Dimensions & Weight: 19 "rack: 48,26 (L) x 22,23 (H) x 40,64 (D) x 21 kgs
PID 8800 analyser Uses
The 8800 static PID analyser has a wide range of applications:
Environmental: soil pollution, total VOC waste, leak detection, HC in water (process, urban environments)
Industrial hygiene
Industrial processes: drying oven outlets...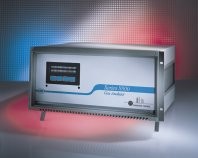 Highlights
Large measurement scale (10 ppb to 5000 ppm...)
Compact : rack 19" or wall-mounted
Low-maintenance (no PID gas support)