GASTEC - portable unheated Hydrocarbons FID analyser
Runtime of more than 60 hours with a Hydrogen refill for longer analysis projects
More than 5,500 units sold worldwide
The GASTEC portable FID analyser is a VOC (Volatile Organic Compounds) analyser that runs according to the principle of flame ionisation. This technique, used for many years by stand-alone analysers (see our type 201 analyser), overcomes any disparities that may exist between the different compounds measured.
The portable GASTEC FID analyser gives an almost linear response between the different organic molecules (alcohols, ketones, aromatics, alkanes, VOC ...).
The portable GASTEC FID analyser, with its reliability and rapid response, is of exceptional quality, and is able to detect leaks in under 2 seconds.
GAS-TEC - Compounds detected
The portable GASTEC FID analyser analyses VOCs (Volatile Organic Compounds).
GAS-TEC - Scale of analysis
Large scale of measurement <1 ppm to 10,000 ppm (100,000 ppm also possible).
GAS-TEC – Hydrogen cylinder refill station
The refill station is completely stand-lone. Filling is done from a parent bottle.
GAS-TEC: Key Strengths
Weight: 3.7 Kg
Very simple operation
Easy to use keypad
Large and well-lit display for easy reading
Linearity up to 10,000 ppm
VERY RAPID response: 2 sec for 90%
Integrated sampling pump (flow rate 0.9 l / min)
Dust and moisture filter
Includes Sampling probe
Electronic zero and zero atmosphere
Output connector for data recording
Easy to maintain
Excellent stability (zero & span)
Easy-to-use acquisition software INCLUDED
Very durable
Sold with carry case & shoulder strap, sampling probe, rechargeable hydrogen cylinder (refill kit sold separately), battery charger, particle & hydrophobic filters.
GAS-TEC uses
The portable GASTEC FID analyser has a wide range of applications:
Environmental: soil decontamination monitoring, measurement of total hydrocarbons (HTC), landfills, biogas...
Industrial: leak detection, industrial hygiene...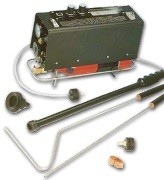 Highlights
Rapid response: 2 sec for 90%
Long-life: 60h with hydrogen refill
Sturdy
Easy to use