FID 9000H - heated THC FID analyser
Exceptional dynamic scale allows a measurement of 0.1 ppm to 50% Vol
The FID 9000 H analyser is based on a flame ionisation detector (FID) with electronic flow control that injects a small portion of the gas sample to the detector flame. During the combustion process, the organic or hydrocarbon gases in the gas sample are ionised, enabling detection and analysis as a concentration. The FID 9000 H analyser can analyse samples up to 200 ° C without condensation reaching the detector. Automatic calibration improves the reliability of long-term analyses.
Fast response time
The electronic back-pressure controller with sampling by-pass system ensures a rapid response. The exceptional dynamic scale allows a measurement of 0.1 ppm to 50% Vol.
Sampling
One-point or multi-point internal modules for pre-filtered (<0.1 micron) and condensing samples with or without sampling pump.
Compounds detected
The 9000H heated FID analyser can perform continuous detection of total hydrocarbons in samples, and ensures they remain heated to above their dew point.
FID 9000H Analyser: Technical Specifications
Detector: flame ionisation detector (FID)
Sample temperature: up to 200 ° C
Scale: 0.1 ppm to 50% Vol
MDQ: 0.10 ppm (propane)
Repeatability: +/- 1% PE response
Drift: +/- 1% over 24 hours of PE
Response time: T90 <5 sec.
Alarms: Audible and visual alarms for multi-level concentration and fault alarms. Alarms can also be associated with external equipment control relays.
Sampling: single point or multi-point internal modules for pre-filtered samples (<0.1 microns) and condensers with or without sampling pump.
Calibration: automatic or manual programmable calibration.
Gas: Hydrogen 40 cc / min, Air 200 cc / min (typical). The amount of hydrocarbons must be less than 1 ppm. H2 / He also available.
Configuration: bench-top or rack-mounted 19 "(48.3cm)
Connections: 1/4 "(6.35 mm)
Operating temperature: 0 - 40 ° C
Operating humidity: 0 - 95% (non-condensing)
Power: 90 - 230 VAC, 50/60 Hz, 3A.Display: 3.4 "(8.6cm) x 4.5" (11.4cm) screen
Outputs :

Logic: 5 programmable relays - 3A @ 230V AC
Analog: 1 programmable 0-20mA output or 4-20mA isolated
Digital: RS-232, Ethernet

Inputs: Option card of 3 contacts

To start the analysis
To start the calibration
To start the gas test

Dimensions: 19.00 "(48.3cm) W x 14.25" (36.2cm) D x 5.25 "(13.3 cm) H.
Weight: 11.3 kg
FID 9000H analyser Uses
The 9000 H heated FID analyser has a wide range of applications:
EPA 25A and 503 compliance-testing
Continuous emission monitoring (CEM) of the HCT hydrocarbon source
Efficiency Control: Scrubber & Oxidisers
Carbon detection
LIE monitoring
Vehicle emissions
Chemical Mixing processes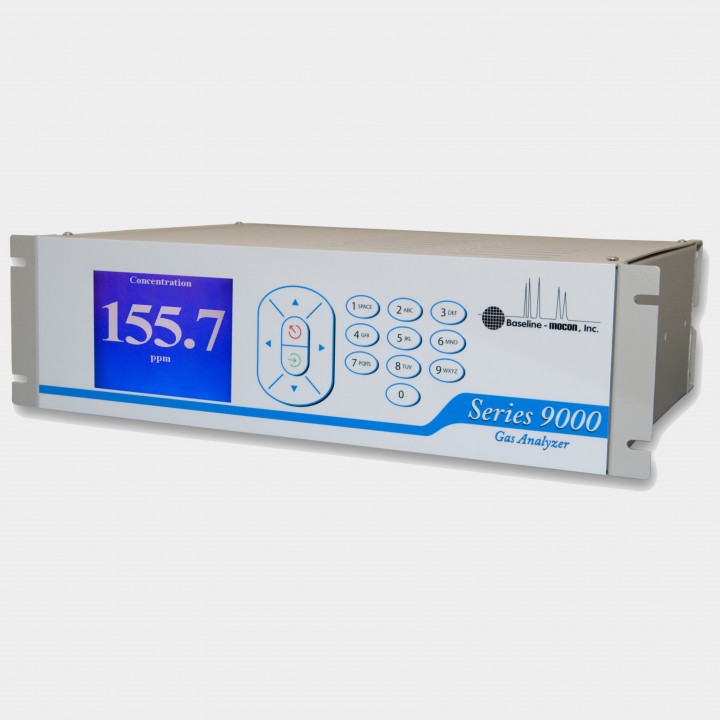 Highlights
Automatic FID ignition, with automatic shut-off of sample, fuel and combustion air.
Automatic calibration
Measurement scale: sub-ppm to 50% (methane)