Portable I-GRAPH XC Chromatograph
Standalone - Battery Powered (also available in solar powered)
The I-Graph XC Chromatograph is a portable gas analyser that keeps your samples protected during transport to the laboratory. The I-Graph XC Chromatograph is a handy, lightweight, stand-alone device with many field applications.
Its sturdy aluminium case keeps the I-Graph XC chromatograph protected and boasts a handy storage compartment in its lid for accessories. It comes with a built-in PC running Windows XP Professional and a 10.4 " touch-screen.
Other key features: AC power supply and battery (also available in solar powered), USB ports, RJ45, WLAN (optional WIFI) and custom online calibration. It's GCM Manager software automatically processes and stores the data analysed, making it even easier to use. It enables you to perform both qualitative and quantitative analyses.
The I-Graph XC Chromatograph can provides immediate data on:
Monitoring gas flows
Production monitoring
Exhaust monitoring
Security surveillance of the surroundings
Process control
Quality analysis
This is a fully-mobile, stand-alone product with very short measuring cycles and an easy-to-use interface, making the I-Graph XC Chromatograph the perfect solution for field applications.
I-GRAPH XC Chromatograph: Technical Specifications
Detector: thermal conductivity detector (TCD)
Sensitivity standard:
Analysis time: 30 s to 180 s
Measurement channels (streams): 8
Operating temperature: + 2 °C to + 55 °C
Max. analysis temperature + 350 °C
Max. temperature ramp 8 °C /s
Sample gas volume: 0.05 μl up to 6μl
Sample gas input (pump): -0.6 bar to +0.6 bar
Sample gas inlet (static): 0.5 bar up to 10 bar
Vector gas: He, Ar, N2, H2
External pressure of the carrier gas: 1 bar up to 10 bar
Vector gas consumption:

100 μl / min DTS
500 μl / min GTS

Vector gas supply: internal / external
Mobile vector gas cartridge: 100 ml / 10 bar
Pump: Programmed
Gas connections: 3 mm quick couplings
Sample supply: internal bypass switching
Column cooling: active
Relative humidity: <60%
Pressure regulator: two-level pressure regulator
Type of protection: IP44
Power supply: 90 VAC up to 240 VAC
Voltage: 24 VDC
Power: 15W up to 90 W max.
Version: portable version
Dimensions (L x W x H): 35 x 32 x 21 cm
Weight: 11.5 Kg
I-GRAPH XS Chromatograph: Practical Applications
Monitoring of gas flows
Production monitoring
Exhaust monitoring
Surveillance of surroundings
Process control
Quality analysis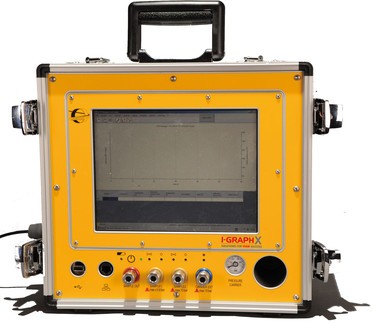 Highlights
TCD Detector
Portable
Individual field applications
Automatic recording
Short measurement cycles
Touch-screen