FID 9000 – static COV FID analyser
Exceptional dynamic scale allowing a measurement of 10 ppb to 100% Vol
The FID 9000 analyser offers unrivalled flexibility and enables you to conduct fully-automated, continuous gas analysis in a broad range of concentrations. With a wide and dynamic range of less than 10 ppb for the Standard version and up to 100% methane for the Pro version. The FID 9000 analyser has many different options for analog, digital and logic outputs.
These features make this tool a market leader in terms of performance, automation and configuration. The FID 9000 analyser is based on a flame ionisation detector (FID) with electronic flow control that injects a small portion of the gas sample into the detector. During the combustion process, the organic or hydrocarbon-based gases contained in the gas sample are ionised so they can be detected and analysed as a concentration. The FID 9000 analyser can be configured with internal components for a non-condensing or multi-point sample analysis point. Its automatic calibration improves the stability of long-term analyses.
Fast response time
An electronic back-pressure regulator with sampling bypass system ensures a rapid response.
Exceptional dynamic scale
Measurement of 10 ppb to 100% Vol.

Sampling
Single point or multi-point internal modules for pre-filtered samples (<0.1 microns and condensers with or without sampling pump
FID 9000 Analyser: Technical Specifications
Detector: flame ionisation detector (FID).
Scale: 0-2000 ppm or 0-20 000 ppm or 0-100% (CH4)
MDQ: low scale (0.01 ppm), medium scale (0.10 ppm), high scale (10.0 ppm)
Repeatability: +/- 1% PE response
Drift: +/- 1% over 24 hours
Response time: <5 seconds on 90% of the final reading
Alarms: audible and visual alarms for multi-level concentration, and fault alarms. Alarms can also be linked up with external equipment control relays.
Sampling: one-point or multi-point internal modules for pre-filtered samples (<0.1 microns and non-condensants, with or without sampling pump.
Calibration: automatic or manual
Gas: Hydrogen 35cc / min, Air 175 cc / min.
Configuration: bench-top or rack-mounted 19 "(48.3 cm)
Connections: ¼ "(6.35 mm)
Operating temperature: 0 - 40 ° C
Operating humidity: 0 - 95% (non-condensing)
Power: 90 - 230 VAC, 50 / 60Hz, 3A
Display: 3.4 "x 4.5 (8.6 cm x 11.4 cm) screen
Outputs:

Logic: 5 programmable relays - 3A @ 230V AC
Analog: 1 programmable 0-20mA output or 4-20mA isolated
Digital: RS-232, Ethernet

Inputs: 3 contacts optionally available

To start the analysis
To start the calibration
To start the gas test

Size: 19.00 "(48.3cm) W x 14.25" (36.2cm) Dx 5.25" (13.3cm)
Weight: 10 kg
FID 9000 analyser Uses
The FID 9000 analyser is designed for the continuous monitoring of total hydrocarbons in non-condensed gases. Its many different applications include:
Efficiency Monitoring: Oxidiser & Scrubber
Carbon detection
Impurities in pure and ultra pure gases
Oil drilling
Industrial Hygiene & Safety Control
Perimeter monitoring around industrial sites
LIE monitoring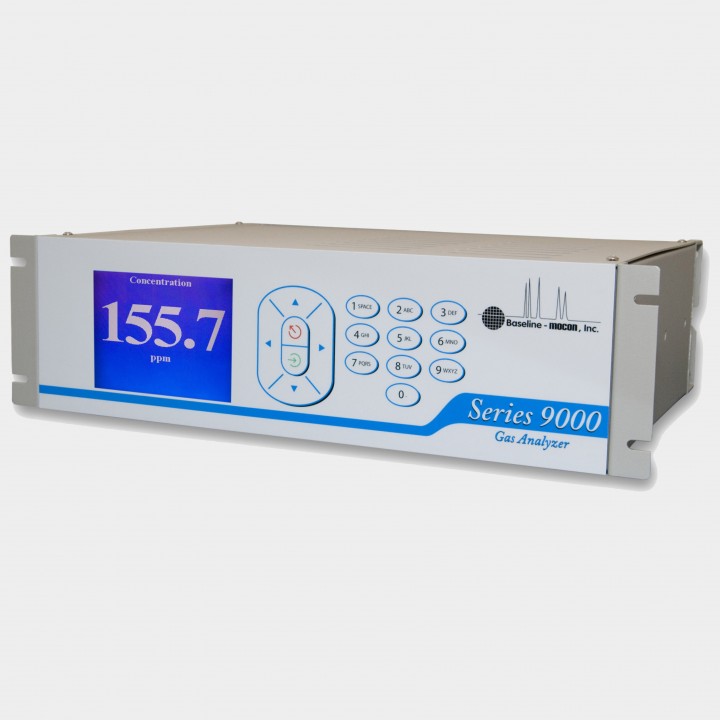 Highlights
Automatic FID ignition, with automatic shut-off of sample, fuel and combustion air.
Automatic calibration